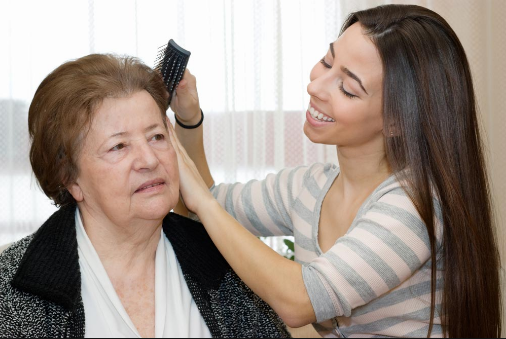 Appearances are deceptive it is said, but as it may be, it speaks volumes on how much of an effort the person has put into presenting oneself. Appearance partly dictates confidence. At a younger age a normal individual will take good care of his appearance to atleast be presentable. Since ages we have associated people with good appearance with more positive attributes. Among women hair and skin are of equal concern. Women put in sufficient time to keep their hair well groomed. Hair is a style statement. Agingcare.com gives more ideas on hair care .
Ageing affects physical appearance tremendously. Genetics mostly dictates if one's hair will grey, thin or even turn bald. If either parent has greyed, or thinned hair or turned bald on ageing, it is quite expected that the trait will most probably occur in the following generation too. Physical appearance is also affected by other environmental factors, exposure to sunlight, diet, medication, smoking or drug habits. Stress is a major contributor to deterioration in physical appearance. Upto a certain age one can take good care of their hair by regular washing and styling. As age creeps in, disabilities restrict movement and washing hair becomes a painful task. Elders involved in fewer or no social activities may absolutely forego the need for the upkeep of appearance.Many retirement homes in Chennai keep this in mind when tending to the needs of elderly people.
Elderly women who have enjoyed good tresses during younger years may find changes in their hair quite disturbing. Style is something that can be customized to suit anybody's personality. The right hair stylist can help with the right hair cut to suit face structure. Overly conscious women may even choose to colour their hair. Family and friends can keep good humour and encourage them to try new hairstyles that might not be outlandish. Men have learnt to carry their baldness in style and for the conscious ones there is always hair fixing strategies that may or may not succeed.
Even for the elderly a healthy diet is the essence to healthy hair. Food rich in iron, vitamin A, E, B and C, fish oil and proteins are all good for healthy hair. A nutritionist will be able to incorporate a healthy hair care diet into their regular diet.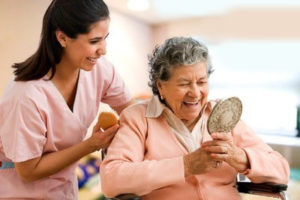 Simple hair care tips:
Follow a healthy diet
Stay hydrated
Opt for shorter hairstyle that suits face structure and is easy maintenance
Care givers may wash their ward's hair while having them seated, as it may be more convenient to you and the receiver
Hair does not need to be washed on a daily basis
Natural oils on scalp will naturally nourish hair
Cold washes will induce natural oil secretion and keep the hair moisturized
Shampoo only once or twice a week. Use a mild shampoo, as hair is more brittle at old age
Avoid chemically harsh hair care products that use
Keep hair moisturized
Gently massage scalp with oil once in a while as it is relaxing as well as good for hair.
Brush often to keep hair tangle free, removing tangles can be painful
Hair care for elders with Alzheimer's or dementia
It is common in patients suffering Alzheimer's that they may not even recognize their own reflection and have a fear of mirrors. It can be least expected from such individuals that they may take care of their own physical appearance. Care givers can warm up to them, make them comfortable with activities they are familiar with and in familiar surroundings and coax them into a hair wash. There is every possibility that you will fail to coax them into it but be gentle with them and go easy on them. You can try again later.
Elders with dementia can be no easy either. They could forget why they are sitting where they are and might put up a fight in the middle of the hair wash session. Be prepared for such situations and let them have their way. A hair wash is not the end of the world.
Like children elders even without such conditions may refuse a shower or hair wash session for unseen reasons or some reason the care giver may not understand. It might be the weather, the temperature of the water or any factor that is making them uncomfortable. A constant care giver will be able to identify these factors and find the best time to keep elders presentable. If hair wash becomes impossible for a while, you can also use dry shampoo which is in powder form, and can take away excess scalp oil. The dry shampoo can then be gently combed away.
Do not force them into it, as it will stress them out and neither of you will look forward to the next session. You can also call for services from hair stylists who make house calls to visit and do the needful. Most of all choose a hairstyle and hair regime that the elder is comfortable with.
Hair care and regular grooming of elders can be a difficult task for the care giver when they have other matters to look after like their own career and children. These small but necessary tasks can be left to professional care givers. Seniors.lovetoknow.com can also help you out.Care finder can help find retirement home in Chennai and home health care services in Chennai to ease your day to day tasks and to cherish loving memories with elders in the family by spending quality time with them rather than stress each other out.
Read Also: Hair Care and Conditioners