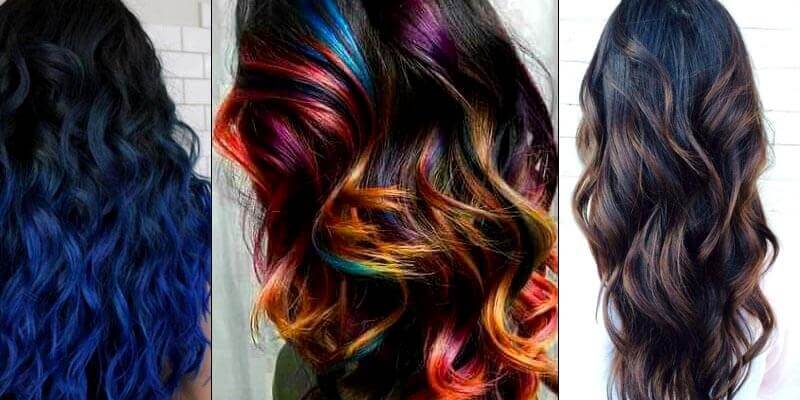 Come summers, most of us with long locks love to get them chopped. After all, the heat makes long hair just unbearable. But when a big occasion comes around or autumn is on its way, you need something big. You need hair for days that can be styled ridiculously. So, how does one give that extra boost to the hair for a big day?
The answer lies with hair extensions. Adding faux hair to your head is an excellent way to put more volume and length. When extensions are styled correctly can turn lump hair into bouncy and short hair into a flowing mane. We give you some hair extension styles that can be used on any day to go from drab to fab.
Add extensions with different colours like pink, yellow, blue and purple. Instead of spoiling your real hair with hard chemicals and bleach to get the perfect shade, use clip-ins or weaves to create an elaborate hairstyle. Such hairstyle will be perfect for a party, a concert or a day outing.

Curls are the best and easiest way to turn limp and straggly looking hair into a bouncing wig. You can choose tight curls or go for a loose wave that is apt for a beach. The tip to styling hair extensions into curls is to get them damp. Before you put hot rollers in or use a curling iron, make sure the extensions are slightly damp. The minute amount of water will take care of the plastic shine extensions have and make them blend seamlessly with natural hair.

If you want a very snatched look for a big occasion, then go for a ponytail with hair extensions. The many photos you see on social media with a long flowing ponytail are all thanks to faux hair. The best way to achieve this look is to buy a clip-in ponytail and wrap a piece of your natural hair on the base. Your hair will hide the clips and extensions will give you a voluminous effect.

Bangs are a hairstyle that everyone wants to have at least once in life, and everyone ends up regretting it. The reason being that growing out bangs is a tremendous pain. An easy way out is to use clip-on bangs. They offer you the chic style without going through that awkward phase where the bangs are too long to be called bangs and too short to be anything else. Use the clip-ins for as long as you wish for bangs and then just remove them when you get bored.

The last style for the day we share with you is braided.  Extensions can be styled in twists, box braids or Marley twists very easily.  It makes maintaining the hair more manageable and keeps the hair looking sleek and tide at all times. Plus braided-hair is the most refreshing style these days. This style can be used in summer or winters. In summers it keeps you cool, and in winters it allows for easy wear of hats and caps.
Read Also: Hair Care: for Grooming of Elderly